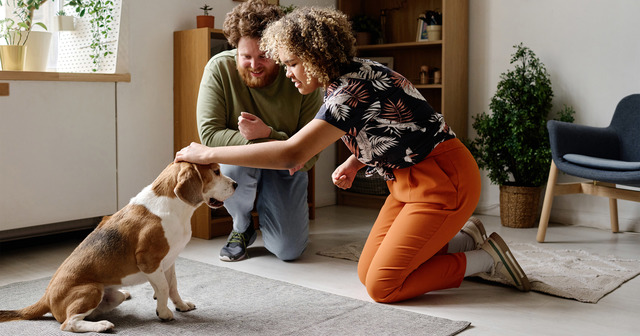 Responsible Pet Owner's Month: Caring for a Pet in an Apartment
February is Responsible Pet Owner's Month, and a great time to ask yourself if all your pet's needs are being met. Every pet needs proper diet and exercise, regular medical evaluation, and opportunities for play and socialization. When you and your pet live in an apartment, there are a few additional considerations you might want to keep in mind.
Apartment Hunting with a Pet
Look for pet-friendly apartments
Many apartment search features allow you to filter by pet-friendly apartments. Set up your pet for success by looking for apartments with welcoming pet amenities, such as an on-site pet-washing station or nearby dog park.
Budget for pet fees or deposits
Don't forget to budget for additional pet fees and deposits during your apartment search. Fees and deposits vary by apartment and type of pet, but typically range from $200 to $500. In addition, there may be a pet rent charge of $25 to $100, on average. Make sure to factor in these additional costs when budgeting for your new apartment.
Be aware of restrictions
Even if an apartment community is labeled as pet-friendly, it may not accept your pet. Restrictions can exist for specific breeds, weight limits, and number of pets allowed. Talk with the Community Manager in advance to clarify any pet restrictions for the property.
Invest in renter's insurance
If you have a pet, you will likely need renter's insurance. Many apartments will require you to have renter's insurance to move in. A solid renter's insurance policy will protect you against any damage to personal property your pet may cause, as well as provide liability coverage.
Question the apartment's fit for you and your pet
When apartment hunting, keep your pet's needs in mind. Consider if the space is large enough for you and your pet to live comfortably. Is there room for your pet's crate or litter box? Look at the different features and fixtures of the apartment and ask yourself if they are suitable for you and your pet. For example, what type of flooring does the apartment have? Will it be easily scratched or stained?
Consider outdoor space
Does your pet need outdoor space to take care of their "business"? If so, make sure it is provided and easily accessible. Outdoor space also provides your pet an opportunity to play and socialize with others. Examine the outdoor amenities the community offers and decide if they are a good fit for you and your pet.
Pet Owners are Responsible Tenants and Neighbors
Even once you find your and your pet's dream apartment, your responsibilities aren't over! As a member of your community, you will want to foster a good relationship with your Community Manager and neighbors. Below are a few tips to help:
Introduce yourself and your pet to your neighbors.
Clean up after your pet, not only its waste, but also fur or hair.
Provide tools for your pet's success in good behavior: scratching posts, easily accessible litter boxes, and enrichment opportunities, such as pet puzzle feeders, toys, or chew items.
Train your pet to be well-behaved. If you have a dog, train it not to bark if left alone. If you have a cat, make sure it is litter box trained and uses a scratching post.
Exercise your pet regularly – too much energy with nowhere to let it loose is a recipe for disaster.
Looking for a Pet-Friendly Apartment?
Guardian manages several pet-friendly homes! Check out our community search to find a pet-friendly apartment near you.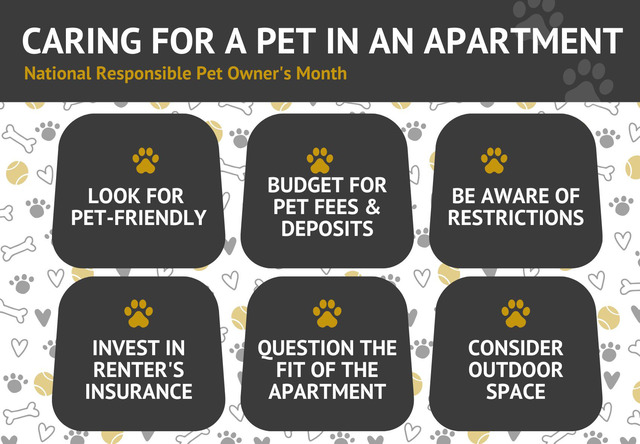 Next Article:
Congratulations to our Best in Class Communities!