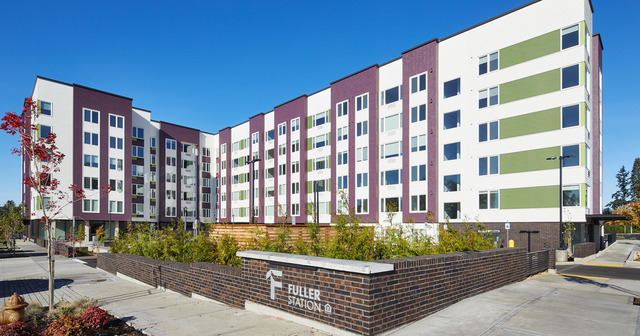 Fuller Road Station brings 100 new affordable apartment homes to unincorporated urban Clackamas County. The six-story building with a mix of one-, two- and three-bedroom homes will serve families and individuals.
The building is directly adjacent to the MAX Green Line with a reader-board inside the lobby. Twenty five units will be dedicated for families and individuals who are homeless or at risk of homelessness, including foster youth exiting or having exited the system.
Future residents will benefit from amenities such as community rooms, open air nature playgrounds, community gardens, on-site parking, secure bike storage, excellent public transit and space available to local community groups for on-site services. Any unit in the building can be converted for ADA accessibility – a rarity in this area where most of the multifamily housing is built in a breezeway walkup style – making this building a particular asset for future tenants with disabilities.
Project Partners
Geller Silvis & Associates
R&H Construction
BC Group
Waterleaf
Finance Partners
OHCS
Metro Bond Loan
Metro TOD Grant
HUD
Clackamas County
JP Morgan Chase
CREA