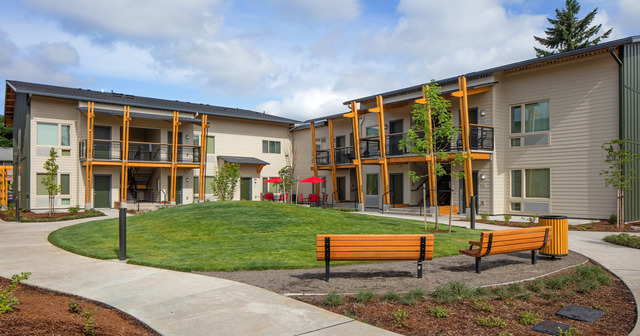 NAYA Generations is a 40-home apartment community in Southeast Portland serving families of foster children.
The affordable housing community is an intergenerational, cooperative community designed to promote permanency, community, and caring relationships between foster families and older adults.
NAYA Generations encourages a collaborative environment in its community rooms and gardens. Community members have opportunities to contribute to the community as a homework helper, computer lab tutor, mentor, respite/child care provider, or teacher of a wide variety of subjects – cooking, arts & crafts, sports, and more.
Residents can choose from one- to four-bedroom floor plans with ample closet space, full kitchen and dining spaces, and spacious living rooms. The community has onsite parking available and an in-building laundry room.
Project Partners
NAYA Family Center
Carleton Hart
LMC Construction
BC Group
Finance Partners
JP Morgan Chase
Network for Oregon Affordable Housing
Enterprise Community Partners
Portland Housing Bureau
OHCS
Meyer Memorial Trust