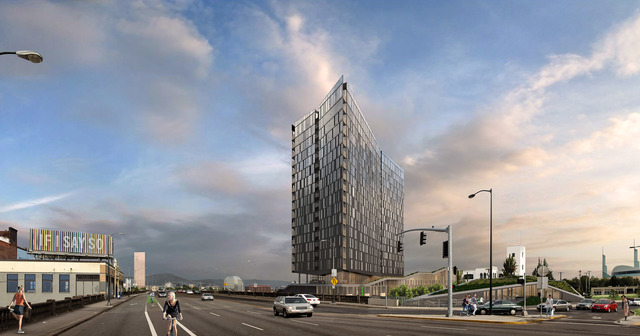 Yard is a 21-story mixed-use multifamily project with 284 apartments and 24,000 square feet of ground floor commercial space.
Located in Portland's Central Eastside, the community is a mix of studio, one-, and two-bedroom apartment homes, on-site retail, and a community plaza with barbeque area. Amenities include a technology lounge, pet exercise area, fitness center, and full service day spa.
The community is located near the Portland Streetcar and major bike thoroughfares, and includes 492 bicycle parking spaces and a bike repair station. The building is LEED Silver certified and has an eco-roof to help capture and filter stormwater.
In response to the growing need for affordable and workforce housing, Guardian negotiated a 10-year tax exemption with the City of Portland in exchange for 57 units offered to households at or below 60% median family income (MFI). In December 2016, the Yard was sold.
Project Partners
Key Development
Andersen Construction Company
Skylab Architecture
Finance Partners
Bank of the Ozarks
Cornerstone Real Estate Advisors
Portland Housing Bureau