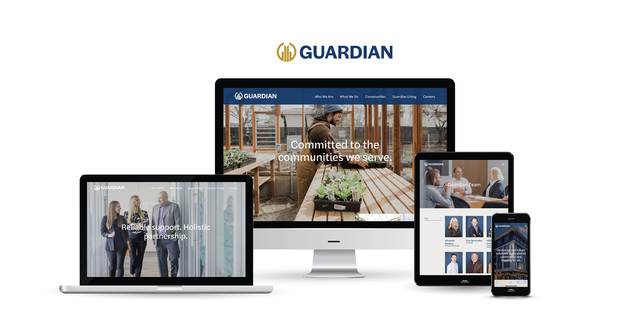 For more than 20 years, Guardian has been evolving. Today, we announce a new evolution.
When President Tom Brenneke took the helm in 1998, he implemented a verticalized business model, integrating management, development, and investment services. In the years that followed, we expanded our portfolio, refined our processes, and optimized our business systems. But our focus has remained the same: to provide housing for all.
Today, we announce a new evolution. Later this month, we are launching a refined brand look and new website to better reflect Guardian's commitment to quality, innovation, and building community. Our focus remains on our residents, partners, and team members as we continue to provide innovative real estate solutions dedicated to community and housing for all.
Our updated logo is strong, straightforward, and approachable. The brand icon continues to reflect our "G" arms encircling and "guarding" our communities. In addition, the updated wordmark uses a bold, humanist font to convey strength and support. The logo reflects our commitment to building and serving stable and thriving communities.

We are in the business of people, and our new website brings people to the forefront. The new visual look reflects our commitment to the people behind the Guardian brand, including our team members, residents, and partners. Enjoy the sneak preview below and keep your eyes on gres.com as the new site launches soon!
Despite these changes, we remain the same Guardian you have helped to build over the past two decades. We look forward to our continued partnerships and growth in the coming years!
Next Article:
Luis Vazquez takes next step on his career path in maintenance