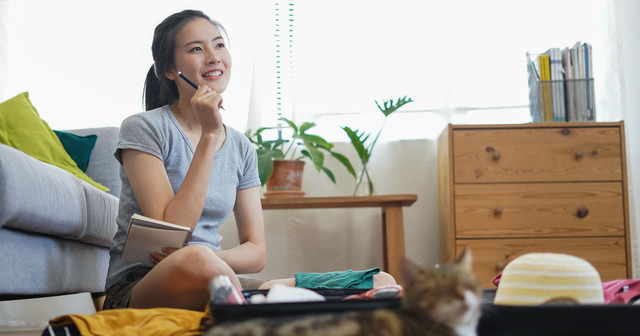 Five Easy New Year's Resolutions for Apartment Renters
Cheers to 2022! A new year brings the opportunity for a fresh outlook and goals. Make the most of your apartment rental experience this year with these five new year's resolution recommendations:
Resolution #1: Take advantage of the benefits your community offers!
Each of Guardian's communities offers a unique set of features and benefits. Perhaps you want to spend more time outdoors in 2022 – the community garden, BBQ/picnic area, or playground might be just the inspiration to get you outside! A pool, exercise room, or walking path can offer health benefits. And there are the social benefits of using common areas such as the community clubhouse, kitchen, or computer lab (see resolution recommendation #2). Depending on the community you've chosen, you may have concierge services or resident programs that can help enhance your lifestyle. Make a point of making the most of all your community has to offer in 2022!
Resolution #2: Meet a new neighbor.
Make a new friend by extending an introduction to a neighbor you haven't met. Perhaps invite them to join you in using one of your community's amenities. In addition to a friendly face, knowing your neighbors can help you keep up on current events and offer you a feeling of connection. Plus, it helps to foster a supportive and secure community.
Resolution #3: Cut down on energy consumption.
Save on your energy costs in 2022 by cutting down on your energy use. Start with turning off lights and appliances when you leave the room. Take a shorter shower. Nudge your thermostat down a degree or two to save on heating costs. You can also adjust the temperature several degrees while you're asleep or away for additional savings.
Resolution #4: Set up online payments to auto-pay your rent!
Save yourself the time and hassle of paying rent by setting up auto-pay in your resident portal. You can include rent, utilities, and other services such as parking or pet fees. Download instructions to set up online payments and auto-payments. Contact your Community Manager with any questions.
*Note: Residents are responsible for online processing fees for debit cards, credit cards, and WIPS. Fees vary by payment type. ACH payments (directly from your bank account) have no fees. *
Resolution #5: Check that your renter's insurance is current.
Are you covered in the case of theft, fire, or other disasters? Start 2022 by making sure you have a policy in place to cover your personal property, such as clothes, jewelry, furniture, computers, TV, and electronics. These items can add up quickly if you're put in a position to replace everything. Renters insurance can also cover living expenses if you are forced out of your apartment by a major claim such as a fire or extensive water damage. Talk to your insurance provider to make sure you're protected in 2022.
Final Thoughts on New Year's Resolutions
New year's resolutions should help bring peace and direction to your new year. If you have any issues or concerns with your rental, please contact your community office and we'll happily work with you on a resolution.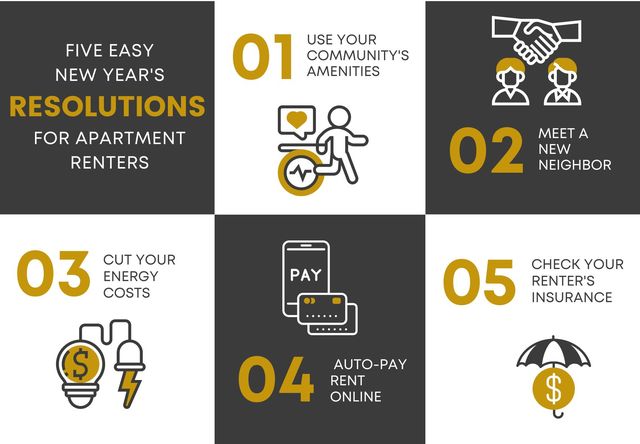 Next Article:
Guardian Announces Tiller Terrace, an Affordable Housing Development in Portland's Goose Hollow Neighborhood