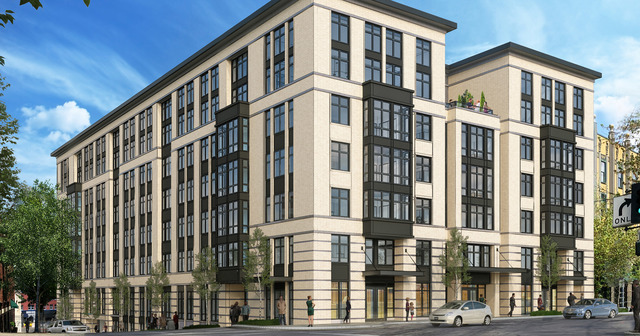 Guardian Announces Tiller Terrace, an Affordable Housing Development in Portland's Goose Hollow Neighborhood
Guardian Real Estate Services LLC ("Guardian") today announced the planned development of Tiller Terrace, providing 214 apartments in the Goose Hollow neighborhood of Portland, OR. Construction will begin in November, and the expected completion is November 2023.
Located directly across from the Providence Park TriMet light rail station, Tiller Terrace is a mixed-use, six-story midrise on 20,000 square feet of land. The project provides studio, one-bedroom, and two-bedroom homes for individuals and families. The development includes 3,500 square feet of retail space, a community room, an outdoor terrace, and classroom space. The project will obtain the nationally recognized Green Globes® certification.
Initially designed as a market-rate project, Guardian repositioned the development to help meet the growing need for lower-income housing in central Portland. Tiller Terrace will serve households who earn no more than 60% of the Area Median Income (AMI; currently $40,620 for an individual), providing needed housing for central Portland's workers. Currently, only five percent of the area's estimated 28,200 workers reside in the neighborhood.
Tom Brenneke, president of Guardian, said, "Workers in central Portland have limited options for affordable housing near their place of employment. Within walking distance of the Pearl District, Northwest/Nob Hill, and Downtown, Tiller Terrace offers a viable housing solution for lower-income workers."
The project's financial partners are PNC Real Estate, Red Stone Tax Exempt Funding, Oregon Housing and Community Services (OHCS) tax-exempt bonds and low-income housing tax credits (LIHTC), and Metro transit-oriented development (TOD) funds.
The project team includes R&H Construction, BC Group, SERA Design and Architecture, and Tello Interiors. Guardian Management will be the property management company.
Next Article:
Guardian Plans 234-unit Residential Development in Milwaukie