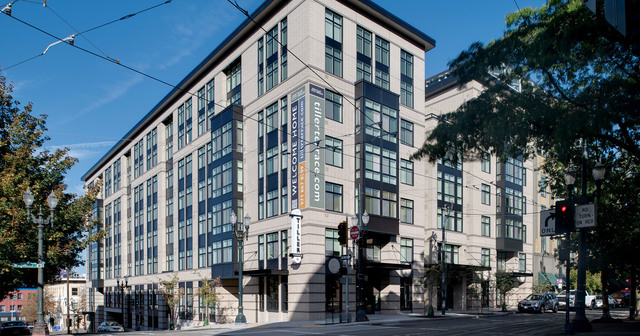 Tiller Terrace will provide 214 apartments in the Goose Hollow neighborhood of Portland, OR.
Located directly across from the Providence Park TriMet light rail station, Tiller Terrace is a mixed-use, six-story midrise on 20,000 square feet of land.
The project provides studio, one-bedroom, and two-bedroom homes for individuals and families. The development includes 3,500 square feet of retail space, a community room, an outdoor terrace, and classroom space. The project will obtain the nationally recognized Green Globes® certification.
Initially designed as a market-rate project, Guardian repositioned the development to help meet the growing need for lower-income housing in central Portland. Tiller Terrace will serve households who earn no more than 60% of the Area Median Income (AMI), providing needed housing for central Portland's workers. Currently, only five percent of the area's estimated 28,200 workers reside in the neighborhood.
Project Partners
R&H Construction
BC Group
SERA Design and Architecture
Tello Interiors
Finance Partners
PNC Real Estate
Red Stone
OHCS
Metro