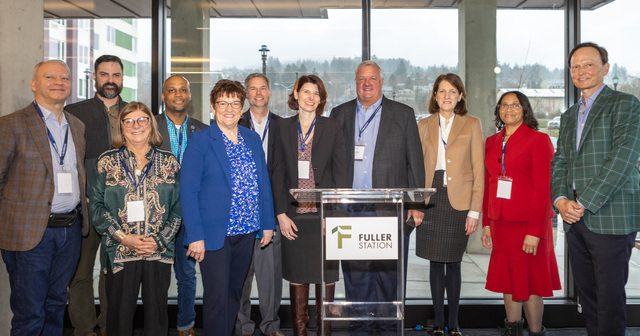 Fuller Station Open House
Despite the gray, rainy day outside, it was bright and cheerful at Fuller Station as more than 80 guests joined developers Guardian and Geller Silvis & Associates to celebrate the successful opening of Fuller Station Apartments. A special thanks to the elected officials who joined us to offer their support.
Fuller Station delivered 100 new affordable homes to unincorporated urban Clackamas County, directly adjacent to the MAX Green Line. The six-story building is a mix of one-, two-, and three-bedroom homes and serves families and individuals with incomes between 30% and 60% of the area median income (AMI).
Developers Guardian and Geller, Silvis & Associates uniquely brought together several agencies and organizations to bring this project to life, including CREA, Chase, TriMet, Metro, Clackamas County, HUD, and OHCS. Representatives from each organization were available to discuss their role in the project and how these new affordable homes will impact our community.
We enjoyed seeing everyone and look forward to our continued partnership to bring community and housing to all.
Please take a moment to enjoy the photos from the event.
Next Article:
Guardian Communities Recognized as Best in Class by Ellis, a Grace Hill Company