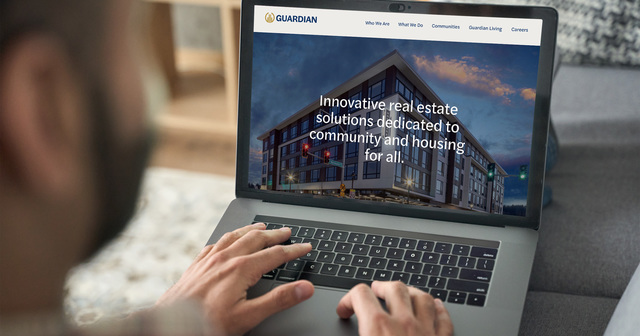 Guardian Looks Forward with Updated Brand Identity
Portland, OR – Guardian, a vertically-integrated multifamily real estate company serving the Pacific Northwest, today unveiled a refreshed brand identity and website. The launch reflects the company's ongoing commitment to quality, innovation, and community building.
The new identity marks another milestone in the evolution of Guardian, which has grown in the past twenty years from a locally-focused management company into a regional developer, owner, and operator.
"For the past two decades, Guardian has innovated in the multifamily real estate space, and while our business has transformed, our identity has not evolved at the same pace," said president Tom Brenneke. "The refreshed identity better represents our company today and the value we bring to our partners and residents. Our look has changed, but our focus has not. We remain dedicated to building and sustaining thriving communities."
Elements of the Guardian brand evolution include:
Revised brand identity, including a new logo, brand messaging, and brand colors. The updated logo is strong, straightforward, and approachable. The brand icon continues to reflect the "G" arms encircling and "guarding" the communities served. Meanwhile, the updated wordmark uses a bold, humanist font to convey strength and support.

Guardian's voice and values align as the updated brand messaging focuses on the people integral to Guardian's business: service partners, residents, and team members.
The updated color palette adds colors from nature to convey warmth, while retaining the familiar blue and gold of the Guardian brand.
New website. The new website brings people to the forefront, reflecting the commitment to the people behind the Guardian brand, including our team members, residents, and partners. The redesigned website offers visitors richer insight into Guardian's vertically integrated services, demonstrated success through our projects, and best-in-class team.
Guardian partnered with FINE, a Portland-based creative agency, on the new visual identity and website. The new brand will continue to roll out in the coming weeks.
Next Article:
A Brand New Guardian