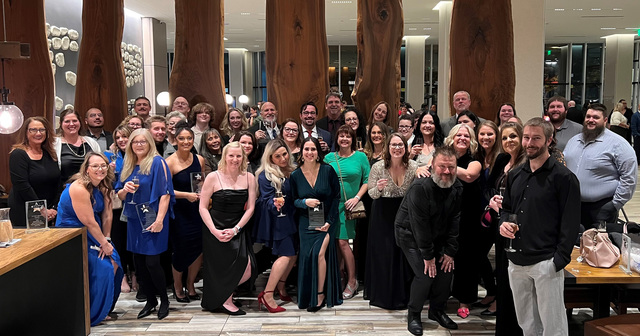 Guardian well-represented at 2023 ACE Awards
Our team showed up in force at the Multifamily NW ACE Awards to support our nominees!
The Apartment Community Excellence (ACE) Awards honors leaders in property management who proudly create thriving apartment communities and who are role models for others to strive to emulate.
We are thrilled share that four Guardian team members won in their categories! Read about our winners below and be sure to check out the photos from the event at the bottom of the page.
Rookie of the Year
Griffin Hendrix, Maintenance Assistant at our Happy Valley trio of communities, Terrace at Mount Scott, Acadia Gardens, and Town Center Station, won Rookie of the Year! Griffin always has a positive attitude and shows great customer service to our residents and guests. He provides efficient and effective maintenance service and continues to grow his skillset with trainings. Griffin prioritizes safety, attending all safety meetings and making sure guidelines are met and followed. In addition, Griffin exemplifies teamwork, working alongside other Guardian teams for REAC inspections and OHCS inspections.
Corporate Support Person of the Year
Kevin Webb, Guardian's Director of Maintenance, took the stage for Corporate Support Person of the Year. Leading our regional maintenance efforts, Kevin has made remarkable enhancements to our maintenance processes, particularly in the area of Preventative Maintenance Inspections through the MIQ Yardi Platform. Kevin's leadership also extends beyond our organization. He has established himself as an industry leader in the inspection readiness arena, regularly conducting industry-wide training sessions. But it's Kevin's dynamic attitude and ability to inspire and motivate that truly set him apart. His unwavering commitment to excellence and his ability to bring out the best in those around him make him a true Rock Star in every sense.
Affordable Housing Manager of the Year
Jade McDonald, Community Manager at Fort Vancouver Terrace, won Affordable Housing Manager of the Year. Working on an older HUD property presents numerous challenges, including agency inspections, repairs and upgrades, and compliance management. Jade has a wonderful rapport with her maintenance team and has created an atmosphere of support and open communication that helps her keep her community running within its operating budget. In addition, Jade has organized resident appreciation events, created a food pantry on site, and hosted a Resident Services Day with multiple community agencies. Even the Mayor of Vancouver made an appearance to thank Jade for her work in the community!
Portfolio Manager of the Year
Tina Langdon took home the honors for Portfolio Manager of the Year. Tina possesses a remarkable talent for identifying problem areas within her portfolio of assets, swiftly implementing effective solutions, and delivering results to maximize the potential of each property under her supervision. Tina's leadership extends beyond her daily responsibilities. She has been at the forefront of implementing impactful initiatives at Guardian, including pioneering lease-up tools that utilize remote support from Area Managers to streamline compliance and expedite move-ins. Additionally, Tina has played a pivotal role in enhancing onboarding workflows and tool utilization for property managers through collaborative efforts with Guardian Leadership and Human Resources. Tina is a natural leader within her team and a tireless worker who goes above and beyond to support her teams and assist her peers. Beyond her professional accomplishments, Tina coaches high school volleyball players to the collegiate level and is deeply committed to investing in the next generation of female leaders.
Our Nominees
In addition, a huge congratulations to our nominees – each one is an amazing representation of stellar service and we're so lucky to have them on our team!
Michelle Bartlett, Portfolio Manager of the Year
Julie Bauer, Corporate Support Person of the Year
Leah Fox-Lewis, Property Manager of the Year
Irene Hazel, Affordable Housing Manager of the Year
Brandy Hinton, Property Support Person of the Year
Christine Rustigan, Portfolio Manager of the Year
Roselane Short, Property Manager of the Year
Next Article:
Recognizing Our Veterans