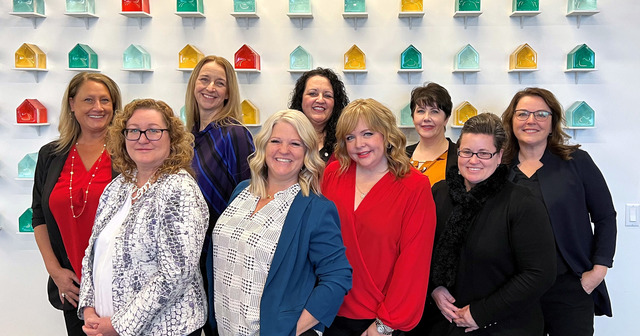 Meet Guardian's Portfolio Management Team
Guardian's Portfolio Management team evolved this past year, and we would love to introduce you to our new make-up!
Let's begin with our fearless leader, Hollie Forsman. Named Director of Property Operations in early 2021, Hollie went right to work on developing a team dedicated to operational excellence and exemplary resident experience. Hollie is a proven executive leader with a background in property management, asset management, development, and business operations. Her focus is on improving policies and procedures, strengthening Guardian's partner relationships, and mentoring her team for growth and success.
Michelle Bartlett joined Guardian in November 2021 with more than 18 years of management experience in conventional and affordable properties. She has an extensive background in affordable housing and proven success in lease-ups, stabilization, new construction, and development. Michelle is committed to operational excellence, asset improvement, and providing top-notch personalized experiences for her communities.
Desiree Davis started her property management career in 2013. She joined the Guardian team in March 2021 and currently oversees properties in Lane, Linn, and Benton counties. Desi excels in affordable property management, including RD, HUD, HOME, and LIHTC set asides. Her experience includes handling major construction projects, management changes, acquisitions, and lease-ups.
Debbie Engen has been with Guardian since 2008 and is our Senior Living Director of Operations. She manages a portfolio of independent living, tax credit, and rural development communities in OR, WA, AZ, and TX. With more than 20 years of experience in the senior living industry, Debbie is well-versed in all aspects of the sector, including food service, nursing, maintenance, housekeeping, activities, and transportation. Debbie has a meticulous eye for detail, and she is a dedicated supporter of her team and residents.
One of our longest-tenured employees, Tiffany Glines joined Guardian in 1999. She specializes in conventional property management with a proven track record in lease-ups and property repositioning. Tiffany plays a key role in our shop program's implementation and training. She assembles successful onsite teams through hands-on training and guidance.
Tina Langdon returned to the Guardian team in January 2022 to oversee a portfolio of communities in Washington state. She brings more than 20 years of experience in the multifamily industry, including construction management, asset management, project management, and account maintenance for LIHTC, HUD, and conventional properties. Tina is a skilled project manager, knowledgeable in market analysis and financial management, and a dedicated team leader.
Stephannie Lowrance joined Guardian in September 2021 with more than 20 years of experience in real estate and property management. She has managed conventional, affordable, and commercial assets throughout the Northwest. Stephannie is a LIHTC specialist, a Certified Occupancy Specialist (COS), and a CPM® candidate through IREM. Her experience includes acquisitions, rehabilitations, management changes, and lease-ups.
Kelly Paine brought more than 20 years of experience to the Guardian team when she joined in May 2018. Her expertise includes Class A properties, affordable housing projects, lease-ups, and redevelopments. A lifelong learner, Kelly holds an NPPC from Novogradic, an ARM® designation, and is a CPM® candidate through IREM. She is a proven team leader focused on staff development and resident retention.
Christine Rustigan is the newest member of the Portfolio Management team, returning to Guardian in January 2022. She previously worked with Guardian in the early 2000s on lease-ups. She brings nearly a decade of experience as a regional manager of affordable and conventional properties. An experienced team leader, Christine has a track record of maintaining well-performing assets and leading turnarounds.
Our talented team oversees the management of approximately 8,000 homes throughout Oregon, Washington, Arizona, and Texas. With specialists in senior housing, affordable housing, lease-ups, renovations, and repositionings, our team is prepared to deliver exceptional service to our residents and exceptional results to our partners.
Looking to join a strong team? Visit our Careers page to view our current openings – we're always looking for team members interested in growing their careers!
Next Article:
Five Easy New Year's Resolutions for Apartment Renters