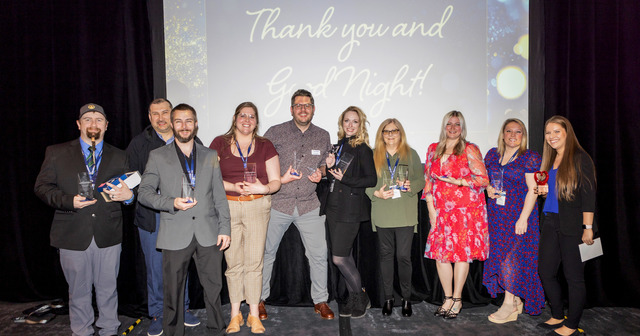 Training, recognition, and fun at the 2023 Guardian Leadership Conference
Last week our team gathered in Portland for the 2023 Guardian Leadership Conference. For two days, our team spent time together to learn and celebrate the past year.
We were in person for the first time since 2020, and you could feel the excitement in the air amongst all the chatter, hugs, and smiles. Check out the photo gallery below to see all the happy faces!
The team enjoyed training opportunities in Yardi RightSource and Yardi CRM, fair housing, security, leasing, social media, maintenance tools, branding, and resident services. In particular, folks loved the Thinking Like an Owner session, presented by our very own VP of Operations, Hollie Forsman.
We are so grateful to our partners who took the time and resources to present or sponsor raffle prizes for our team!
Celebrating Guardian's Successes
In addition to the training opportunities, the Leadership Conference is a time to celebrate the prior year's accomplishments and successes. We recognize our Top Shops, Best in Class Resident Survey winners, and Maintenance Employees of the Year throughout the year and were thrilled to recognize these winners again at the conference.
We are also proud to recognize the following team members for their achievements in 2022:
Guardian Gold Award Winners
Peer-nominated, our Guardian Gold Awards celebrate those that have gone above and beyond their duties in the past year. We had 72 individuals nominated by their peers for consideration this year. The selection committee reviewed the 130 submissions that came in and considered the following, as appropriate for the award: occupancy record, financial management, shops and survey scores, certification completions, and work order completion rate.
Congratulations to our 2022 Guardian Gold Award Winners!
Tori Gawlinski - Rookie of the Year, Home Support
Paul Moorman - Rookie of the Year, Maintenance
Sean Baker - Rookie of the Year, Property Management
Jennifer Wallace - Above & Beyond, Home Support
Tyler Hazel - Above & Beyond, Maintenance
Kevin Burke - Above & Beyond, Property Management
Macey Tucker - Chief Closer, Community
Ashley Ingram - Chief Closer, Regional
Creekside Village, Art Gallery Open House - Resident Event of the Year
Country Run - Most Improved Team
Vlad Mukhin - Department Lead of the Year
Travis Jones - Maintenance Tech of the Year, less than 100 units
Doug Hatcher - Maintenance Tech of the Year, more than 100 units
Don Harkins - Maintenance Lead of the Year
Leah Fox-Lewis - ILF Director of the Year
Kayla Jamieson - Affordable Manager of the Year, less than 100 units
Alyssa Scevers - Affordable Manager of the Year, more than 100 units
Chelsea Fredricksen - Conventional Manager of the Year
Additional Recognition
This year, we had several additional awards and award categories to recognize, including two surprise awards:
Kevin Webb - Most PMIs Completed
Jessica Swanson - Guardian Champion
Maintenance Shop Contest Winners
Less than 100 units
1st place - Sunrise Estates
2nd place - Aspen Ridge
More than 100 units
1st place - WestTown on 8th
2nd place - Park Avenue West
SOCi Awards
Cypress Point - Most Posts
Quail Run - Top Engagement Rate
Years of Service
Guardian is proud of the tenure of our team members! Congratulations to the individuals below who met Years of Service milestones in 2022:
30 Years of Service
15 Years of Service
10 Years of Service
Cherie Hughley
Duane Dodgson
James McKinnon III
James Stark
Juan Lucio
Julie Mallonee
Kevin Burke
Lacey Bowman
LanDiem Bui
Levi Curran
Miro Uchytil
Sandra Ledsema
Shannon McHardy
Sharon Rodriguez
Teresa Engle
Vladimir Mukhin
Warren Blanchard
5 Years of Service
Chris Baltazar
Gabriella Santiago
Kimberly Brammer
Nick Mower
Tammy Hubbard
Tim Ostapa
Weston Barrett
Next Article:
Fuller Station Open House