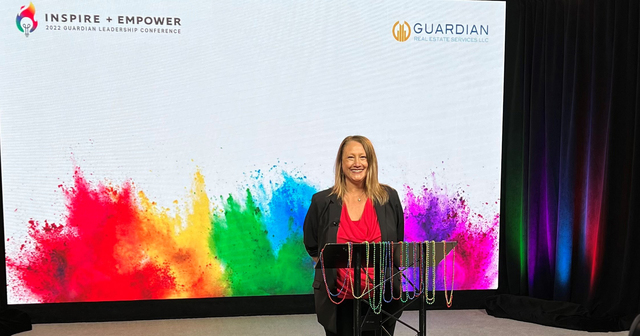 2022 Guardian Leadership Conference
Last week our team members gathered in a hybrid/virtual format for the 2022 Guardian Leadership Conference. After taking a year off due to the pandemic, everyone was excited to spend time together to learn and celebrate the past year.
Led by an outside facilitator, we spent the morning working through the Insights Discovery program. This self-awareness tool helps people understand their own and others' communication preferences to have more respectful, productive, and positive working relationships. In virtual breakout rooms, groups discussed their communication style, their strengths, and the value they bring to the team.
The afternoon focused on leadership. VP of Property Operations Hollie Forsman discussed what it means to be a leader and the difference between a leader and a manager. Top takeaways include:
We are all leaders – no matter the position or title.
We are all different – and it is important to recognize and navigate our differences with communication.
Compliance, Business Systems, Marketing, Maintenance, and HR shared departmental updates. Finally, Guardian President Tom Brenneke shared his outlook on our business, the market, and the future.
Celebrating Guardian's Successes
A time to invest in our team members' growth and development, the 2022 Guardian Leadership Conference also celebrated the prior year's accomplishments. We are proud to recognize the following individuals for their achievements in 2021:
GOLD Awards
Peer-nominated, our Guardian GOLD awards celebrate those that have gone above and beyond their duties in the past year. We had 60 individuals nominated by their peers for consideration this year. The selection committee reviewed the 90 submissions that came in and considered the following, as appropriate for the award: occupancy record, financial management, shops and survey scores, certification completions, and work order completion rate.
Stephanie Kerr – Conventional Manager of the Year
Mary Trujillo – Affordable Manager of the Year (≥100 units)
Ashley Ingram – Affordable Manager of the Year (<100 units)
Luis Vazquez – Maintenance Lead of the Year
Shane Ralston – Maintenance Technician of the Year
Melina Reynoso – Chief Closer
Kevin Burke – Above & Beyond in Property Management
Allison Christensen – Above & Beyond in Support
Ed Byerly – Above & Beyond in Maintenance
Dylan Wilson – Maintenance Rookie of the Year
Jade McDonald – Property Management Rookie of the Year
Years of Service
Guardian is proud of the tenure of our team members! We celebrate that 30% of our team members have greater than five years of employment with Guardian. Congratulations to the individuals below who met Years of Service milestones in 2021:
25 Years of Service
20 Years of Service
Gaspar Parscual-Gaspar
Leopoldo Morales
Robin Smithburg
15 Years of Service
Annette Houk
Beth Danskine-Klein
Marina Cochran
10 Years of Service
Emily Klaus
Julie Greco
Moses Mascolo
Mylene Baliton
5 Years of Service
Fawn Rininger
Garrett Percox
Leovardo Delgado
Michael Lyon
Michelle Jones
Raileen Cobbs
2021 Maintenance Employee of the Month
Mid-2021, we rolled out a new monthly Maintenance Employee of the Month program. Congratulations to our recipients in 2021:
Adrian Guirado, Fort Vancouver Terrace
Leo Morales, Oakmont
Anthony Okoye, Patton Home
James McKinnon, Discovery Point
Shane Ralston, Quail Run
Top Shops
Our Top Shop awardees met or exceeded a 90% score from their mystery shopper in 2021.
Amanda Rescoe
Amanda Rollins*
Amy Pariseau
Anna Phillips*
Aquaquinetta Scott
Ashley Ingram**
Ashley Villalobos**
Charity Kelley-White*
Chelsea Fredricksen*
Cheryl Ponter
Christina Berganio*
Cliff Hughes*
David Seid**
Debra Rodriguez
Devon Santiago
Dodie Chalmers*
Elaine Joseph**
Emily Klaus**
Fashia Skjelstad*
Irene Hazel*
Jackie Nairn
Jim Smithburg
Jose Felipe-Flores*
Josh Byers
Julie Mallonee**
Julie Mozingo**
Kevin Burke
Kimberly Hendricks
Kristen Tyler
Lacey Bowman*
Lachelle Temperini
Lisa Lucio*
Lisa Simonson*
Loana Hoots*
Louie Rea
Macey Tucker*
Mary Blakey*
Mary Trujillo*
Melina Reynoso*
Michelle Jones**
Mike Barbieri*
Pamela Lopeman**
Railene Cobbs
Rebecca Seid*
Robert Faulconer*
Stephanie Kerr*
Stephen Hampton*
Tammy Herrera
Tammy Hubbard
Tiara Hayes
Tiesha Watts*
Warren Blanchard**
*Recipient received multiple scores of 90% or above in 2021.
**Recipient received multiple perfect 100% scores in 2021.
Resident Surveys
Properties awarded Best in Class had higher than a 90% average Loyalty Score from our Ellis Resident Survey program.
Acadia Gardens*
Coronado Glen
Cypress Point*
Discovery Point*
Discovery View*
Fairhaven Gardens
Farmington Meadows
Heritage Glen
Highland Square*
Indian Creek Court*
Indian Creek Village
Merlo Station*
Miracles Central*
Murray Woods*
Oakmont*
Orchards Plaza*
Quail Run*
Raymond House*
Sunrise Estates
Terrace at Mount Scott*
Towne Square
Vah-ki Court
Villas on Sixth Apartment Homes*
Windsor Square*
*Properties were also awarded the 2021 Ellis Customer Experience Best in Class Award for Resident Surveys. Learn more >>
Congratulations to all our award recipients!
Next Article:
Guardian welcomes Jack Doyle as Asset Manager